Toyota's All-New Multimedia System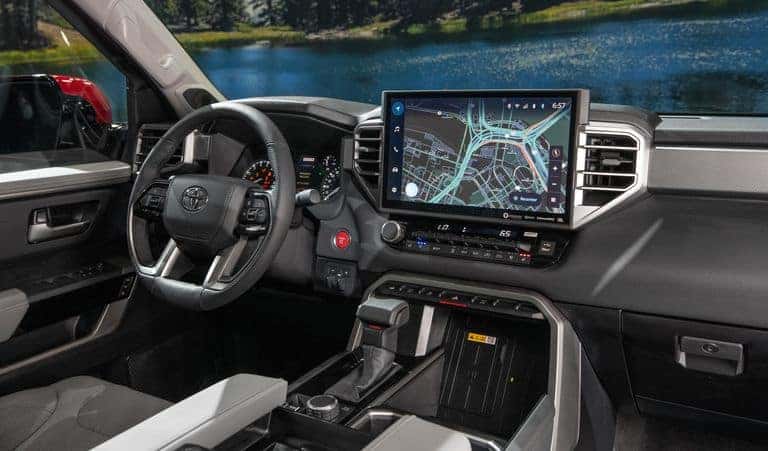 Back in August when we got our first look at the 2022 Tundra, one of the most eye-catching details we got to see was the all-new multimedia console. Featured in many of the 2022 models, the infotainment system has been radically redesigned to ensure that every detail is covered. Consumers want a ride that comes with all the latest technology to keep them company on the open road. Toyota has stepped up their game in this department, with available Apple CarPlay and Android Auto for connectivity, as well as a truly impressive 14-inch touchscreen that serves as the crown jewel of the all-new infotainment system.
The mega touchscreen makes it easy search for radio stations, as well as navigate a range of other available apps. Each model also receives a 3-year trial subscription to Remote Connect along with up to 5 years of complimentary Service Connect. Using the Toyota App, owners can remotely start their engine, lock/unlock their doors, and receive vehicle health reports from anywhere in the world. In addition, every model receives a 3-year trial subscription to Safety Connect, which offers 24/7 Emergency Assistance, Automatic Collision Notification, Stolen Vehicle Locator and more.
When it comes to connecting your devices, you will be well taken care of in this new generation of vehicles. Apple CarPlay, Android Auto, Amazon Alexa and Wi-Fi Connect, are all available in these new models, and they also come with a number of speaker packages to capitalize on the latest tech. The crown jewel of the audio department is the nine-speaker JBL premium audio system. Gone are the days where you needed an AUX cord to play music from your device. Now you can do it effortlessly and wirelessly from anywhere in the vehicle. Furthermore, this means you can listen to your favourite music, radio channels and make calls from behind the wheel. You can keep your eyes on the road but you can control everything with the steering wheel buttons. Your devices are also well taken care of, and you won't have to worry about sharing charging cables. There are also plenty of ways to charge your devices including a USB port, and an additional three 12-volt outlets, which should provide plenty of available chargers for yourself and all of your passengers.
Finally, one of the coolest features involves the Toyota mobile app. It builds on existing functionality allowing drivers to start the car from their phone. With user profiles, drivers can store preferred vehicle settings on the Toyota app, and these settings will be specific to their profile. With the user profile paired to either a smartphone device or the vehicle's smart key, the settings such as music and screen display preferences will automatically be recognized when a driver returns to the vehicle. No more adjusting the seats or mirrors every time a new driver takes the wheel. Instead, the vehicle will remember each profile and adjust the interior accordingly. The user profiles are also transferrable, so drivers can bring their favorite settings to any Toyota vehicle with the new multimedia system.
With these exciting technological innovations, we can't wait for all of you to take a look for yourself. In the meantime, what are you most excited about in the new infotainment system? Or what would you like to see in future models? Let us know!