Times are tough, but we are here to support you.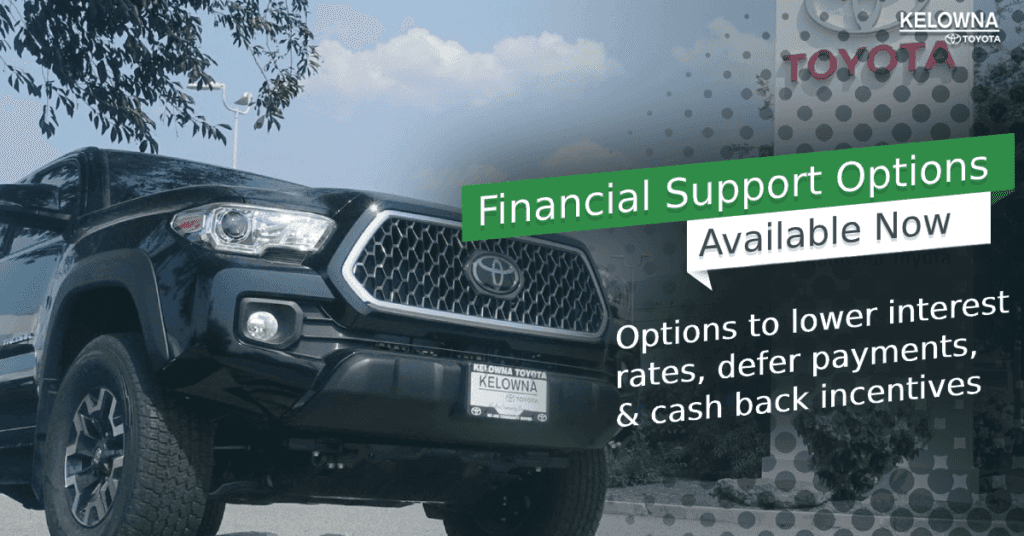 Due to the current COVID-19 situation, Kelowna Toyota is here to help with financial support options like:
Lowering Interest Rates

Lower Payments

Larger Discount Prices on New Vehicles

Cash Back Options Available
However, please understand that quick action is imperative. We understand how difficult things are, however, we would like to get working on these options now before any potential lenders tighten up approval rates or credit scores get impacted in any way. There are no obligations, these are simply options that we can explore with you should you require them. Our entire team is committed to working around the clock to get these approvals.
We also have options of securing some cash back to help with other payments through this time. If this is something that you feel would be beneficial, please contact us and we will get started on the process as soon as possible. We are here to help, regardless of your situation.
With the increased number of customers inquiring about this program, it may take us a little longer to find the best solution for you, but please know that we are committed to working through this with you. Your patience is greatly appreciated.
To get started with this program, please fill out the form to the right, click the button above, or give us a call directly at (250) 491-2475.
For customers financed with Toyota financial looking to defer their current loan please call 1-800-661-3062